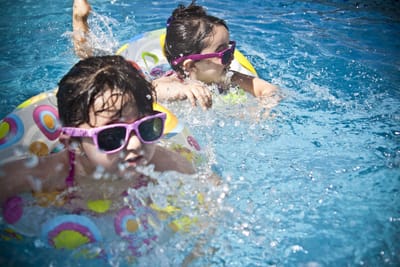 It's Summer in Pemberville......It's getting hot out there!!!
The pool will open this upcoming Saturday, June 3 at 1 pm!! Immediately preceding the opening will be the dedication ceremony for the new Splash Pad, dedicated to the residents of the Village of Pemberville in memory of former Mayor, James R Opelt. It is his gift to the pool that we used as 'seed' money for the splash pad. He gave so much to this community and we are forever grateful. Come celebrate with us and get your feet (and whatever else needs cooling off)
WET!!!
Sincerely,
Carol
Carol A Bailey, Mayor
ZONING. We're here to help! Make a call before you make a mistake!!
Generally, it is illegal to use any structure, building created, erected, changed, converted or enlarged, wholly or partly, until a Zoning Certificate has been issued by the Zoning Inspector. If you are making any change or addition to your property, you need to contact the Village Zoning Inspector. Please take a few minutes and see if anything listed here affects you and if you have questions, look them up, or call
Eric Campbell @ 419-287-4768
. Remember, our zoning ordinances are listed on the website on the Village Government page
Below is information on some common zoning issues that are either not known to everyone or have not been enforced for several years. In order for the village to remain the village that we know and love, we must enforce our zoning. There are many zoning rules, but here are a few that are commonly used (and abused). I encourage all residents that are considering any changes to their property visit the website and read the zoning that relates to your planned project.
Swimming pools #702 A permit is required once a pool goes beyond a certain size. It makes no difference if it is above or below ground. There are also fence regulations in regards to pools. Make a call before you make a mistake.
Fencing #904 A permit is always required. Please consult the zoning ordinances and if in doubt, call Mr. Campbell.
RV's, and recreational vehicles, trailers, boats, etc. #701.2 There are rules regarding how many, where in your yard and even IF you can have these in your yards. Currently there are many illegally parked recreational vehicles, trailers, etc. in the village. Please check out the rules in this regard and make adjustments before you are contacted.
Accessory buildings. #505.2 Utility sheds, garages, etc. Again, consult zoning and seek assistance to understand the zoning prior to making your purchase by call Mr. Campbell @ 419-287-4768
We will be addressing problem areas. Please consult zoning with your questions before proceeding.
Something new!! You may now access all Pemberville's Ordinances online!
click here to access our code library
CodeRED
- Is a wonderful system that alerts you to problems on your street, town or countywide. Storms, floods, CoVid19 announcements all can come directly to you. It's free and easy and now would be a good time to add the CodeRED app to your phone or home computer. Information for that can be found at
www.woodcountysheriff.com/wood-county-codered/
R U OK?
- a new service to check on seniors. Please take a look and if this service would benefit you or someone you know please sign up. Contact Deputy Brianne Cooper at 419-354-9005
IF YOU ARE A SENIOR AND REQUIRE MEAL ASSISTANCE
- call the Wood County Committee on Aging 419-353-5661 Or call the Mayor 419-419-9645 Also the WCCOA is looking for volunteers to deliver Mobile Meals in the Pemberville area. It takes about 1 hour and you can volunteer weekly, or even once per month. Please consider volunteering, it is extremely rewarding!
If you have old, outdated prescription
(or other drugs) there is a 'dropbox' in the lobby of the police station. They may be safely disposed of there. NO SYRINGES please!
If you are going away for a bit
, let the Pemberville Police know! They offer a service to watch your home for you. Go to the Government page on this website and click on Pemberville Police.
ALL OTHER INQUIRIES
- can be made by calling 419-287- 3832 or my personal cell 419-419-9645 for Mayor. I will do my best to answer all calls. After business hours and you need to leave a message please do so and you will receive a call back as soon as possible.
UPDATE YOUR INFO
Many people now have cell phones instead of landlines. If that is you, please contact the office and give us your updated contact information so we have it on file should we need to contact you.
Remember to follow the rules for the
recycling bins,
scrap metal dumpster and brush pile all located at the village garages. Remember that these services are under recorded surveillance at all times and illegal dumping is punishable by fines.